Give sales the best demo tool!
There are multiple solutions out there that enable sales to share their screen over the web to prospects. Where I work we sell software as a service, and want to demonstrate to prospects how our products work. So finding a good screen sharing product is key.

During the years we have tried multiple vendors of screen sharing solutions with varying results. Most of them puts a burden both on the sales rep and the prospect, requiring them to perform multiple steps before they are able to actually start the demonstration.

Since we were not happy with any of the products we had tried in the field, I conducted another search last year hoping to find a better product. After hunting high and low, I found a new product called CrankWheel – in my opinion the best live demo solution on the market. Here's why.
Easy to use
It's crucial that sales are confident in the tools they use for them to give the best presentations they can. It is also important that the tools they use are as efficient, simple and robust as possible. This is CrankWheel's biggest strength. It just works, every time. And it's dead simple.

Setting up a demonstration is actually just two clicks away from the sales rep side. Joining a demonstration is even simpler – the prospect just need to click on a link from the sales rep, and they are in. That's it! No installation on the prospect side.

The CrankWheel agent is a Chrome extension. Sales reps must have this installed on their computer. Clicking the CrankWheel icon in Chrome ( 1 ) brings up the CrankWheel panel. Clicking "Full screen" ( 2 ) will start a demonstration where you're sharing your screen.

To get your prospect in to your demonstration, just press "Copy" ( 3 ) in the CrankWheel panel, to copy a direct link to your demonstration to your clipboard. Now send that link to your prospect and they will see your screen as soon as they click the link. There are other options to invite prospects as well, but for the sake of simplicity, I will not cover them here.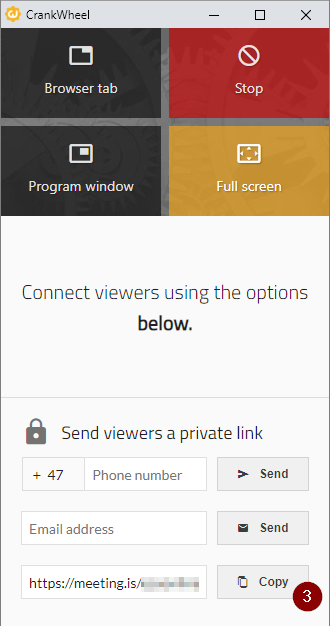 Instant Demo

In addition to the screen sharing capabilities CrankWheel offers, you can set up what they call "Instant Demo" without extra cost. This is a very powerful sales and marketing tool. Instant Demo enables your prospects to request a instantaneous demonstration with a sales rep within a minute. The only thing the prospect has to do, is to fill in their phone number, sit back, and wait for a sales rep to give them a call and automatically share their screen with them.
You can set up Instant Demo like a pop up, embedded element on your website, or attach it to a news letter. As long as there is HTML, there is a way.

As stated, the only thing the prospect needs to do, is to type in their phone number. When they press "Request a demo", all assigned sales reps are alerted. The first one to take ownership of the request are shown the phone number to the prospect. The sales rep then have 60 sec to confirm they have established contact with the prospect. When that is done, the sales rep can share their screen using the same steps as shown above, only this time, the prospect will join automatically. From the prospects side, this could not have been any simpler.

Summary
There are even more incredibly useful features lurching beneath the surface. But the ease of use and Instant Demo functionality alone should be more than enough to try out this great product.
Our experience is that sales love it, and we are constantly working on improving our use of CrankWheel to maximize its potential.
Head over to crankwheel.com and get started! Of course, no product is perfect, but their support team reply fast and are very helpful when you face an obstacle.

PS. I just want to make it clear that this is not a payed advert from CrankWheel.
This article just reflect my honest opinion.

---